Le Creuset pan!!
I chose Black Onyx but isn't it so pretty? !
I can hardly believe it but it's true!
You know how much I love doing giveaways but I didn't
know I would love winning so much!!
Thank You Jenny Matlock!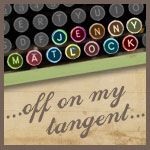 Thanks for all your funny posts that keep me in stitches on long days in the studio & for your great giveaway!
Oh the soups I'm gonna make!!
Happy Easter chickies!!